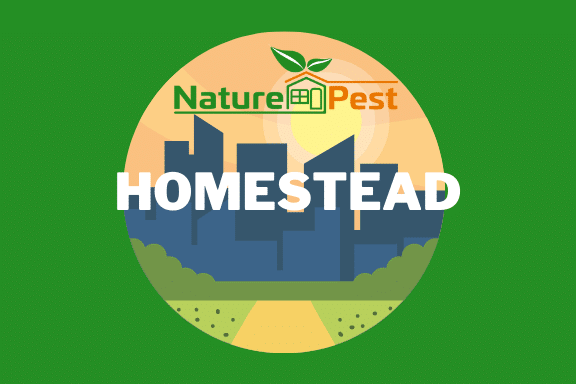 Pest Control Homestead, Florida
Homestead, Florida, is a city in Miami-Dade County that is home to a diverse range of pests, including ants, roaches, rodents, mosquitoes, and whiteflies. Pests in homes and businesses can cause damage, spread diseases, and trigger allergies, making effective pest control essential for a safe and healthy environment.
At NaturePest, we offer professional pest control services in Homestead that are designed to effectively eliminate and prevent pest infestations while minimizing the use of chemicals and promoting environmental responsibility.
such as ants, roaches, fleas, ticks, and mosquitoes can be found in Homestead.
Homestead Florida is no stranger to pests. With its hot humid weather combined with its agriculture, Homestead is a haven for pests. This is why NaturePest has the pest control Homestead Florida trusts since 2009.
Our exterminators are highly trained to deal with general household pests (ants, roaches, ticks, fleas, bedbugs, spiders, rats and mice) as well as ornamental pests (whiteflies, scales, mealybugs, thrips, aphids on shrubs, trees and palms).
We work closely with the cooperative extension service in Homestead and with the University of Florida's Integrated Pest Management program to develop a comprehensive environmentally friendly pest control and prevention program.
Utilizing the latest technology and products that control pests by excluding and eliminating them from your property, not just hiding them in your walls with repellent baseboard sprays that do little to remove them.
Pests carry and spread many diseases through contact, urine, and feces, contaminating your food, utensils, and surfaces, a single roach can carry over 14 million bacteria on its body and over seven million in one feces dropping alone and can carry and transmit over 50 diseases (six of which are resistant to antibiotics).
Roach feces can trigger asthma attacks in people with asthma.
Its proven that IPM can control pests up to 80% better than spraying alone with less contamination due to pesticide exposure.
All of our services come with upfront pricing so you can be in control of your money, and with targeted pest control programs you only pay for the services you need.
We provide the same world-class Holistic IPM service performed in hospitals and five-star hotels at an affordable price for any budget. So you no longer have to put up with pests and cheap pesticide sprays. Naturepest protects your home and health from the damage and diseases pests spread while protecting your health from unnecessary pesticide exposure to your food, dishes, surfaces, and air.
Ant Control Homestead Florida
Ants are common pests in Homestead, and they can quickly invade homes and businesses in search of food and water. At NaturePest, we specialize in treating all types of ant infestations, including Fire Ants, Big-headed ants, Crazy ants, Ghost ants, Argentine ants, carpenter ants, and more. Our ant control methods are effective, pet-friendly, and environmentally responsible.
At NaturePest, we offer a range of ant control services to help homeowners and businesses in Homestead eliminate ant infestations. Our ant control solutions are designed to be effective and eco-friendly, using natural and organic methods whenever possible to minimize the impact on the environment.
Our ant control services include inspection, identification, and treatment of ant colonies using baiting and barrier methods. We also offer ongoing ant control programs to prevent future infestations and protect your property.
If you are dealing with an ant problem in Homestead, contact NaturePest today to schedule a consultation and learn more about our ant control services.
Roach Control Homestead Florida
Roaches are a common problem in Homestead, Florida. With its humid subtropical climate, ample rainfall, and warm temperatures, it creates an ideal breeding ground for roaches. There are several different species of roaches in the area, including the American cockroach, German cockroach, and Oriental cockroach. These roaches can carry diseases and contaminate food, making them a serious health hazard.
Roach infestations can be challenging to control and eliminate, especially if they have already established a large population in the area. The best approach is to take preventative measures, such as keeping the home clean and clutter-free, sealing any cracks or crevices, and eliminating any sources of food and water.
Professional pest control services can also help eliminate roach infestations. NaturePest, a local pest control company, offers eco-friendly and pet-safe roach control services in Homestead. Their experienced technicians use the latest techniques and products to eliminate roaches while minimizing the impact on the environment and the safety of pets and people.
If you suspect a roach infestation in your home, it's essential to act quickly to prevent it from spreading. Contacting a professional pest control service like NaturePest is the best way to eliminate the problem and ensure a roach-free home.
Rodent Control Homestead Florida
Rodents, such as rats and mice, can cause significant damage to homes and businesses, contaminate food, and spread diseases. At NaturePest, we provide humane rodent control solutions, including trapping and exclusion methods, to effectively eliminate rodent infestations and prevent future problems.
Mosquito Control Homestead Florida
Mosquitoes are a common pest in Homestead, and they can carry diseases like West Nile virus and Zika virus. At NaturePest, we offer natural mosquito control solutions, including natural sprays and inzecto traps, that are effective in controlling mosquito populations without harming beneficial insects.
Lawn Care Homestead Florida
We also offer professional lawn care services in Homestead, including lawn spray, weed control, fertilizing, disease control, and more. Our lawn care methods are based on integrated pest management principles that emphasize minimizing the use of chemicals and promoting a healthy and sustainable lawn.
In conclusion, if you're looking for effective and environmentally responsible pest control solutions in Homestead, look no further than NaturePest. Our team of experienced professionals is committed to providing safe and effective pest control services that meet the unique needs of each customer.
About Homestead Florida
Homestead is a city located in Miami-Dade County, Florida, United States. It has a population of approximately 70,000 people and covers an area of 15.3 square miles.
Homestead was first settled in the 1800s and became a major agricultural center in the early 1900s, producing crops such as tomatoes, avocados, and winter vegetables. The city has a rich history, including being the site of the Homestead Air Reserve Base, which played a key role in World War II and the Cold War.
Some notable landmarks in Homestead include the Coral Castle Museum, which is a unique stone structure that was built by one man over 28 years, and the Homestead Historic Town Hall Museum, which is a restored building from the early 1900s that serves as a museum and event space.
Homestead is also home to several parks and natural areas, including the Homestead Bayfront Park, which features a marina, beach, and water activities, and the Everglades National Park, which is a large preserve that covers much of southern Florida and is home to many unique plant and animal species.
For those interested in shopping and fine dining, Homestead has several options to choose from, including the Homestead Pavilion, which is a large shopping center with over 50 stores and restaurants, and the Schnebly Redland's Winery and Brewery, which is a popular spot for wine and beer tastings and events.
Overall, Homestead offers a unique blend of history, natural beauty, and modern amenities, making it a great place to live and visit.
The Communities We Serve In Homestead Fl
NaturePest is the pest control company Homestead Fl trusts to control all its pest problems in an environmentally responsible manner that protects health and property. Our services cover all types of pests, including ants, roaches, rodents, and mosquitoes, and we offer natural and organic pest control solutions.
Homestead is a vibrant and diverse city with a rich history and many landmarks and places to visit. It's also home to many communities, including Cali Greens, Casa Del Sur, Villas at Carmel, Homestead Manor, Cedar West Homes, Malibu Gardens, The Shores Community – A Keys Gate Community, Isola, Portofino Bay, Waterstone, Lennar at The Riviera, Keys Gate Community, The Towns at Seascape, Shoma Homes Key Cove, and Santa Barbara Luxury Townhomes.
As with any community, pests can be a problem in Homestead, and that's where NaturePest comes in. We provide pest control services to all of the neighborhoods we serve, ensuring that residents can enjoy their homes without the nuisance of pests. Our natural and organic pest control solutions are safe for families and pets, and we're committed to protecting the environment while we work to eliminate pests.
Pest Control Near Me
At Nature Pest, we understand that pests can be a nuisance. Not only are they a nuisance, but they can also pose a serious threat to your health and safety. That's why we offer a variety of pest control services, including control for rats and mice, flea and tick control, and a 100% organic certified mosquito reduction program. We also offer certified OMRI organic plant pest control for aphids, mealybugs, scale, thrips, and whiteflies. Our goal is to help you rid your home of pests in the safest and most effective way possible.
We understand that your home is your sanctuary. You should be able to relax and enjoy time with your family without having to worry about pests. That's why we offer a holistic approach to pest control, which includes not only treating the immediate problem.
Don't let pests take over your home in Homestead! Protect your property with our top-notch pest control services. Our team of experts is dedicated to providing you with the best solutions to eliminate all types of pests, including ants, roaches, fleas, ticks and mosquitoes. Don't wait until it's too late – take action now and enjoy a pest-free environment. Contact us today to schedule your pest control service and experience the peace of mind that comes with a job done right!
NaturePest
4140 NE 24th St,
Homestead, FL 33033
+17862227069