Pest Control In Miami Shores, FL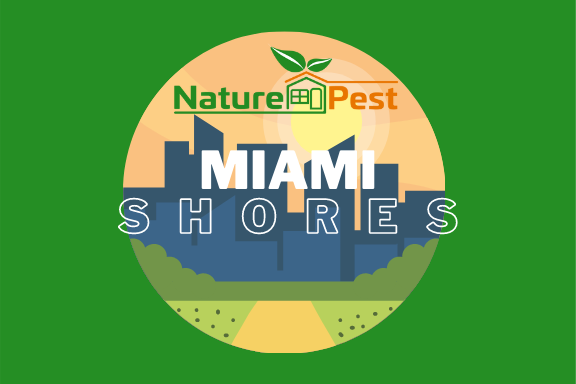 Miami Shores Pest Control Services:
Roaches, Ants, Rats, Fleas, Ticks
Miami Shores, with a population of 10,040 (2005 U.S. Census Bureau), is a lush, residential village of Miami, developed in the 1920. It is a great bastion of art deco architecture, Bayfront vistas, quaint churches and wide, tree-lined streets which contribute to its small-town charm. It is an older suburb of Miami and its suburban feel is part of its charm despite its proximity to downtown Miami. Miami Shores is also known as the home of Barry University.
As a Miami Shores local, you have easy access to the beach, not far away from downtown Miami, and plenty of places to hang out. However, the area also sees many outdoor pests like mosquitoes, fire ants, fleas and ticks, and roaches that can be not only a nuisance but a serious health issue. If Miami Shores pests have made your property their home, it's time to schedule a service call with Naturepest. We specialize in addressing any current pest activity in your home immediately. If you are suffering with roaches, ants, rats or any other insect that bug you, don't wait any longer. In North Miami, pest control now has an affordable German Cockroach service. Order your service now. Get rid of your bugs, protect your environment and save your hard earned money.
Now offering the residents of Miami Shores pest control that is safer than cheap toxic pesticide sprays at an affordable price with no binding contracts. You don't have to live with bugs and the diseases they spread and your pest control service should not endanger your health. Enjoy the very same pest control service used in hospitals, fine restaurants and major hotel chains is now available to everyone.
Miami Shores Pest Control is serviced by NaturePest of Doral
Certifications:
Pest Control Operator
Horticultural Specialist
Certified Categories:
General Household Pest
Lawn and Ornamental Pests
BIO
Franklin has been in the pest control industry for 15 years, starting his pest control career with Rodi Pest Control in 2006, later in 2009 Founded One Property Services, LLC to provide complete property services including landscape maintenance and pool service. In 2014 he launched NaturePest to focus specifically on and cultivate 8 years of integrated pest management experience and innovations that have made him a leader in the ornamental care industry.
Serving the following cities
Coral Gables, FL
Coral Terrace, FL
Country Club, FL
Country Walk, FL
Cutler Bay, FL
Doral, FL
Florida City, FL
Fountainebleau, FL
Gladeview, FL
Glenvar Heights, FL
Goulds, FL
Hialeah, FL
Hialeah Gardens, FL
Homestead, FL
Homestead Base, FL
Kendale Lakes, FL
Kendall, FL
Kendall West, FL
Leisure City, FL
Medley, FL
Miami, FL
Miami Lakes, FL
Miami Springs, FL
Model City Naranja , FL
Olympia Heights, FL
Opa-locka, FL
Palmetto Bay, FL
Palmetto Estates, FL
Palm Springs North, FL
Pinecrest, FL
Princeton, FL
Richmond Heights, FL
Richmond West, FL
South Miami, FL
South Miami Heights, FL
Sunset, FL
Sweetwater, FL
Tamiami, FL
The Crossings, FL
The Hammocks, FL
Three Lakes, FL
University Park, FL
Virginia Gardens, FL
Westchester, FL
West Miami, FL
West Perrine, FL
Westview, FL