Pest Control Lauderhill Florida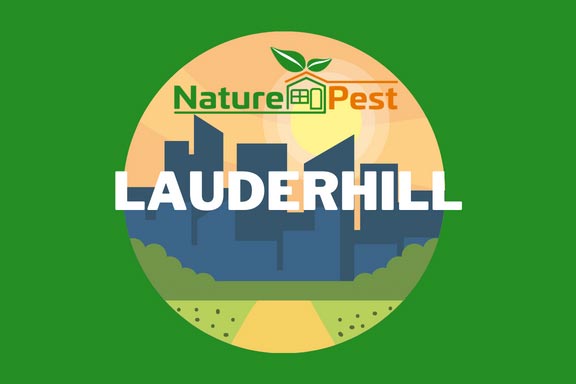 Lauderhill, like any other city in Florida, is no stranger to pest infestations. The warm and humid weather provides the perfect breeding ground for various pests to thrive. At NaturePest, we offer a range of pest control services to help keep your home or business free of pests.
Providing Pet Friendly and Natural Solutions for Your Pest Problems
At NaturePest, we understand that having pests in your home or business can be a real nuisance. That's why we offer a range of pest control solutions that are both effective and environmentally friendly. Our pet-friendly pest control methods are safe for your furry friends, while our natural shrub spray and organic compliant roach control techniques are kind to the environment.
Natural Mosquito Control
Mosquitoes can be a real problem in Florida, especially during the warmer months. Our natural mosquito control methods, which include biological stations, ATSB baits, and IGRs, are designed to target the specific mosquitoes that are common in Lauderhill, without harming other beneficial insects.
Organic Compliant Roach Control
We understand that roaches can be a difficult problem to tackle. That's why we offer organic compliant roach control solutions that are effective, yet safe for your home and the environment. Our roach control techniques include the use of gel baits, IGRs, and glue board traps to target both small German roaches and larger palmetto bugs.
German cockroaches are a common pest in apartments and over 55 communities in Lauderhill, Florida. They are one of the smallest species of cockroaches and are known for their rapid reproduction rate. German cockroaches can quickly infest a building and are difficult to eradicate without professional pest control.
German cockroaches are light brown or tan in color with two dark stripes on their thorax. They are about 1/2 inch long and have wings, but are not strong fliers. They prefer warm and humid environments and are commonly found in kitchens, bathrooms, and areas with water sources.
The reproduction rate of German cockroaches is very high. A female German cockroach can produce up to six egg cases in her lifetime, with each case containing up to 40 eggs. The egg cases are often carried around by the female until they are ready to hatch, which usually takes about one month. This means that a single female cockroach can produce up to 240 offspring in her lifetime.
German cockroaches are attracted to food sources and can contaminate food with their droppings, saliva, and shed skins. They can also trigger allergies and asthma in humans and can spread harmful bacteria and pathogens.
Effective German cockroach control in Lauderhill apartments and over 55 communities requires a combination of methods, including proper sanitation, exclusion, and professional pest control treatments. It is important to eliminate all potential food sources, seal cracks and crevices, and eliminate moisture to prevent infestations.
Professional Lauderhill pest control treatments for German cockroaches may include the use of baits, insect growth regulators (IGRs), and other chemical treatments. It is important to choose a pest control provider that uses safe and effective methods, and takes precautions to prevent contamination and exposure to residents.
Humane Rodent Control
Rodents can be a real problem in both homes and businesses, but we believe in taking a humane approach to rodent control. Our techniques include the use of exterior bait stations and humane trapping, so you can be sure that your pest problem is dealt with in a safe and ethical manner.
Organic Facilities Compliant Ant Control
Ants can be a persistent problem, but our organic facilities-compliant ant control techniques are designed to eliminate your ant infestation while remaining compliant with organic facilities regulations.
Ants are one of the most common pests that homeowners face in Lauderhill, Florida. There are several different types of ants that can infest your home, including ghost ants, Big Headed ants, crazy ants, Carpenter ants, whitefooted ants, and Argentine ants. Each of these species has its own unique behavior, nesting habits, and food preferences. Here is an overview of each of these ant species and how to control them.
Ant infestations in Lauderhill can be challenging to control without the help of a professional pest control company. At NaturePest, our technicians are trained to identify the ant species in your home and develop a customized ant treatment plan to eliminate them. Contact us today for a free pest control consultation.
IPM Lawn Care
Our IPM-based lawn care services are designed to maintain your landscape with reduced-risk products for grubs, chinchbugs, armyworms, weeds and sedges, lawn disease, and fertilizing. We take a holistic approach to lawn care, using the latest techniques and products to ensure that your lawn remains healthy and lush all year round.
At NaturePest, we are committed to providing safe and effective pest control solutions for both residential and commercial customers in Lauderhill, Florida. Contact us today to schedule your pet-friendly and natural pest control services.
About Lauderhill Pest Control
Lauderhill is a city located in Broward County, Florida, United States. The city has a population of approximately 71,000 people and covers an area of 8.5 square miles. Lauderhill was incorporated in 1959 and is named after its founder, Herbert Sadkin's wife, Grace. The city is part of the Miami metropolitan area and is located just north of Fort Lauderdale.
Lauderhill is a diverse community with a large Caribbean-American population. The city offers a variety of amenities and attractions for residents and visitors, including parks, community centers, and golf courses. The Lauderhill Performing Arts Center hosts a variety of cultural events throughout the year.
One of the most notable attractions in Lauderhill is the Central Broward Regional Park, which features a range of outdoor activities such as soccer, cricket, and baseball. The park also has a water park, skate park, and a velodrome for cycling enthusiasts.
Lauderhill is also known for its strong commitment to education, with the Broward County Public School District operating several schools in the city, including Lauderhill Middle School, Royal Palm Elementary School, and Piper High School.
Overall, Lauderhill offers a vibrant community with a diverse population, a variety of attractions, and a strong emphasis on education.
Looking for an Environmentally Sensitive Pest Control Lauderhill Company Near Me that protects the elderly?
NaturePest serves several neighborhoods in Lauderhill, including Castle Gardens, Las Vistas, Lakes Of Environ, Hi-Greens of Inverrary, and Coral Ridge Towers. As Lauderhill is known for its large retiree population, NaturePest takes great care to prevent pesticide exposure inside homes where seniors live. The effects of pesticide exposure can be more severe in the elderly as their liver and kidneys become less able to remove pesticides from the body as they age.
These communities offer a wide range of housing options, including single-family homes, townhomes, and condominiums. Many of these neighborhoods have amenities such as community pools, tennis courts, and clubhouse facilities.
Lauderhill is also home to several parks and recreational areas, including West Wind Park, Veterans Park, and the Lauderhill Sports Park. These parks offer residents and visitors a variety of outdoor activities, such as playgrounds, sports fields, and walking trails.
Overall, Lauderhill is a vibrant and diverse community that offers its residents a high quality of life. With its beautiful parks, thriving neighborhoods, and excellent pest control services provided by NaturePest, Lauderhill is a great place to call home.
Don't let pests take over your Lauderhill home or business. Call NaturePest today for safe, effective, and pet-friendly pest control services. Our team of experts is dedicated to providing you with the best solutions for your pest problems. Say goodbye to ants, roaches, rodents, mosquitoes, and other pesky invaders. Contact us now for a free consultation and start enjoying a pest-free environment!
Directions To NaturePest From Lauderhill Fl
Drive 56 mi, 57 minutes
4721 NW 12th St, Lauderhill, FL 33313, USA
Head east on NW 12th St toward NW 47th Ave
233 ft
Turn right at the 1st cross street onto NW 47th Ave
0.301 mi
Turn right onto FL-838 W/W Sunrise Blvd
1,165 ft
Turn right to merge onto Florida's Turnpike toward MiamiToll road
12.2 mi
Take the exit toward HomesteadToll road
0.616 mi
Continue onto Ronald Reagan TurnpikeToll road
9.09 mi
Continue onto Florida 821 Toll S/Ronald Reagan TurnpikeToll road
1.22 mi
Continue onto Ronald Reagan TurnpikeToll road
8.63 mi
Continue onto Florida 821 Toll S/Ronald Reagan TurnpikeToll road
328 ft
Continue onto Ronald Reagan TurnpikeToll road
1.99 mi
Continue onto Ronald Reagan TurnpikeToll road
19.6 mi
Take exit 6 for SW 137th Ave toward Speedway BlvdToll road
0.302 mi
Turn left onto SW 137th Ave/Tallahassee Rd (signs for Air Reserve Base/Job Corps Ctr)Pass by Burger King (on the right in 0.9 mi)
1.45 mi
Turn right onto Waterstone WayRestricted usage road
715 ft
At the traffic circle, take the 1st exit onto NE 41st TerraceRestricted usage road
528 ft
Turn right onto NE 24th DrRestricted usage road
751 ft
Turn right onto NE 42nd AveRestricted usage road
230 ft
4140 NE 24th St, Homestead, FL 33033, USA