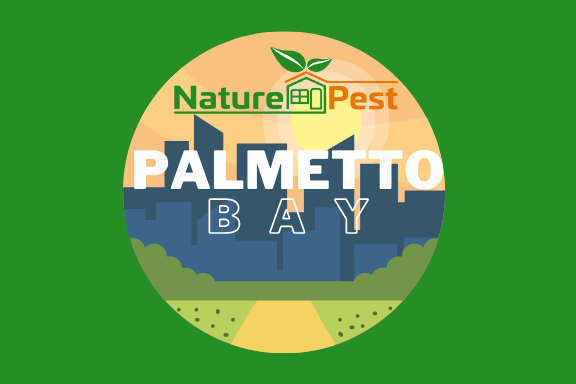 Palmetto Bay, FL Pest Control
Whiteflies, Fleas, Ticks, Ants, Mosquitoes, Roaches, Rodents
NaturePest is the pest control Palmetto Bay trusts to be free from bugs and the disease they spread without contaminating your environment with unnecessary toxic chemical sprays.
Palmetto Bay is a great place to live, but like most places in South Florida the hot and humid weather makes a greater place for bugs to live with us. Since 2006 we have been providing eco friendly pest control to residential and commercial properties at affordable prices.
Not only does Naturepest Palmetto Bay offer no contracts cancel anytime premium services but our holistic approach to integrated pest management is child and pet friendly. The choice is clear.
Whether you own a condo or rent an apartment, you will experience what most multi unit dweller experience: bugs from adjoining properties. This happens as bugs use the electrical tubes inside the walls that connect your properties together to travel freely through the property. We have affordable rates for German Cockroach control starting at just $89 (one time service fee with no contracts). Compare that to Orkin, Truly or Terminix which charge in excess of $250 for the same service.
Single family home owners and renters experience many other insect and rodent problems; from millipedes, ants and roaches to rats and mice in their homes (depending on the neighborhood bugs that have invaded them). If you have pets, then fleas and ticks are a common experience for pet owners.
Unlike other companies that charge you for both services and have you sign two contracts, our complete lawn & shrub program covers both for one low price. It's like paying for a beautiful lawn and garden, and getting the house for free. If you ever experience a general household pest in your home after an initial service and you have our complete lawn care program, we will treat your home for free.
Our lawn program covers far more that chinch bugs and fire ants. We have a comprehensive lawn care program that covers grubs as well (unlike most lawn care companies which charge extra for grub control).
Plus, you get free flea and tick coverage. This is an extra fee and contract with most companies. In addition, you get weed and disease control along with our super nutrition; which you won't get from any over the counter fertilizer or professional fertilizers.
Our eco friendly proprietary blend of slow release nitrogen won't leach to contaminate ground water. It contains Humate which retains moisture in the soil (requiring less irrigation while promoting water conservation); simple and complex sugars that stimulate soil biology; chelated micronutrients (instead of soluble ones that leach into the soil). Chelates allow for better consumption of iron, manganese, and magnesium (which our high alkaline soils bind up). This is why we don't call it fertilizer.  In fact, it's super nutrition.
We also provide the shrub pest control Palmetto Bay needs with a guarantee. With over 70 varieties of whiteflies in South Florida your shrubs are under constant attack. Our systemic shrub care program is so advanced, we guarantee whitefly control on Ficus. It's like having a NO WHITEFLY ZONE around your property. We guarantee no defoliation with just 2 treatments per year and at the price others charge for one treatment with no guarantees. Your shrubs are protected even if your neighbors don't treat theirs.
Unlike spray programs that kill the beneficial insects that help control whiteflies, our service is eco-friendly protecting beneficial insects and pollinators. We can also do the same for all your woody ornamental shrubs that get attacked by scale, aphids, mealybugs and thrips. Our shrub program produces better plant aesthetics and with only 2 applications compared to the 6 to 12 spray application services other companies use.
Our Palm Tree Care program solves 2 major problems in South Florida Palms: micronutrients deficiencies brought on by calcium carbonate rich soils that are highly alkaline (neutralizing and binding nutrients in the soil) and pests like the Rugrose spiraling white flies as well as other piercing sucking insects such as scale, mealybugs and aphids. We can protect, nourish and restore landscape palm to their majestic splendor with our tri-annual treatment program.
WE DO NOT INJECT PALMS unlike other companies that sell trunk injection services. We understand palms don't heal; the wound is permanent and can lead to pathological fungal and viral issues down the road. This is a last resort if you cannot treat the ground.
If you are experiencing pest problems with your home, business, lawn, trees, palms and shrubs, and would like to schedule a free consultation by a certified pest control operator and a certified horticultural specialist who will sit down with you to find the best solution to your pest problems instead of dealing with a pushy sales person, please request a quote now and we will contact you as soon as possible to schedule your consultation.
We are confident that you will not find a company that performs pest control services to Palmetto Bay that can give you service, guarantees, and eco friendliness at a better price and deal with all the complex issues of your home, lawn and garden.
Pest Control Palmetto Bay is service by NaturePest your local exterminator near me Franklin Hernandez, owner.