Pest Control In Miami Springs, FL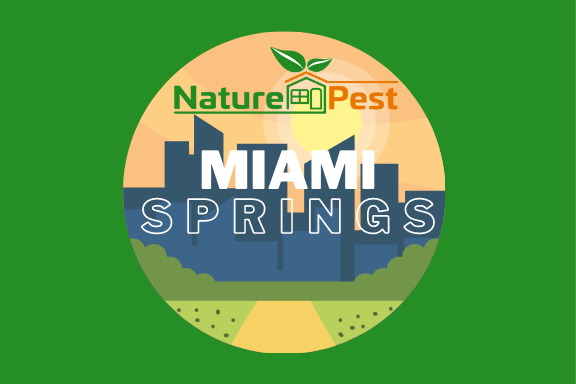 Miami Springs Pest Control Services:
Miami Springs is a hometown to 14,000 residents. Today, mostly single-family dwellings and limited apartments, it boasts a historic downtown area of professional offices, restaurants and small retail stores.Unfortunately, termites are residents in this "bedroom community" known for its small-town flavor, great location and family-oriented civic amenities. Termites are a nightmare to homeowners as they can cause serious damages to any house. Termites in your house? You must take immediate action to eliminate them.
Most people are unaware that it is possible for them to solve a termite problem themselves. Most, however, tend to call a specialist to do the job. To keep termites away, it is essential to ensure that you are doing everything you can to limit the amount of damage they can cause to your home.
The key is to find out where termites are accessing the home from. The good news is that Naturepest has several ways of controlling termites which include bait, wooden Mulch, flooding soil as well as applying foam.
Perhaps, you are dealing with a roach infestation. The good news is that Naturepest Miami Springs can handle any type of pest problem that you have. From ant infestations to rat colonies, roach infestations, animal control & removal, bed bug extermination & much more. If you are being overwhelmed by intrusive Rodents or Pests, Ants, Roaches, Spiders, Rodents, Fleas, Ticks, Bees, Bed Bugs, Wasps, White Flies, Mosquitos, Crickets, Grasshoppers, Silverfish, Termites, Drywood Termites, Subterranean Termites, give Naturepest Miami Springs, FL a call NaturePest Today!
Certifications:
Pest Control Operator
Horticultural Specialist
Certified Categories:
General Household Pest
Lawn and Ornamental Pests
BIO
Franklin has been in the pest control industry for 15 years, starting his pest control career with Rodi Pest Control in 2006, later in 2009 Founded One Property Services, LLC to provide complete property services including landscape maintenance and pool service. In 2014 he launched NaturePest to focus specifically on and cultivate 8 years of integrated pest management experience and innovations that have made him a leader in the ornamental care industry.
Serving the following cities
Coral Gables, FL
Coral Terrace, FL
Country Club, FL
Country Walk, FL
Cutler Bay, FL
Doral, FL
Florida City, FL
Fountainebleau, FL
Gladeview, FL
Glenvar Heights, FL
Goulds, FL
Hialeah, FL
Hialeah Gardens, FL
Homestead, FL
Homestead Base, FL
Kendale Lakes, FL
Kendall, FL
Kendall West, FL
Leisure City, FL
Medley, FL
Miami, FL
Miami Lakes, FL
Miami Springs, FL
Model City Naranja , FL
Olympia Heights, FL
Opa-locka, FL
Palmetto Bay, FL
Palmetto Estates, FL
Palm Springs North, FL
Pinecrest, FL
Princeton, FL
Richmond Heights, FL
Richmond West, FL
South Miami, FL
South Miami Heights, FL
Sunset, FL
Sweetwater, FL
Tamiami, FL
The Crossings, FL
The Hammocks, FL
Three Lakes, FL
University Park, FL
Virginia Gardens, FL
Westchester, FL
West Miami, FL
West Perrine, FL
Westview, FL