Pest Control In Bal Harbour, FL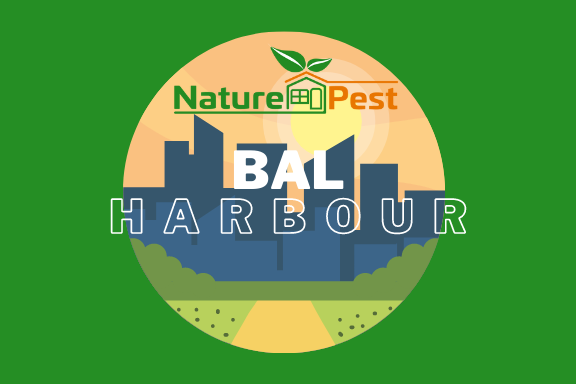 Bal Harbour Pest Control Services:
For many local residents of South Florida, two words come to mind where Bal Harbour is concerned: exquisite and exclusive. Considered a shining enclave located at the northern tip of Miami Beach, Bal Harbour Village holds a singular appeal for the world's most discerning travelers seeking the finest of Miami resorts. Impeccable, contemporary style with deluxe oceanfront hotels, resorts, residences, ultra-chic shopping, and a sublime selection of dining options. This natural paradise -with its pristine, white sand beaches and a serene spirit- is no stranger to its fair share of unwanted guests. 
Unexpected pests have you felt unsettled in your own home or office? We're here to help you take it back with family-friendly pest control treatments. Now offering the residents of Bal Harbour pest control that is safer than cheap toxic pesticide sprays at an affordable price with no binding contracts. You don't have to live with bugs and the diseases they spread and your pest control service should not endanger your health.
The truth is that the pest control service used in hospitals, fine restaurants, and major hotel chains is now available to everyone. What was once reserved for a select few is now available to you for at a lower price than most big brand pest control companies like Orkin, Truly Nolen, and Terminix -without a contract to tie you down- and it's environmentally friendly too.
If roaches, ants, rats or any other insect are a seemingly never-ending problem, don't wait any longer. In Bal Harbour, pest control now has an affordable German Cockroach service. Order your service now. Get rid of your bugs, protect your environment and save your hard-earned money.
If you have pets, fleas and ticks are unavoidable. NaturePest also offers Bal Harbour residents pest control for flea and tick control as well as lawn spray with no contracts. Not only can your pest control issues be promptly taken care of but Naturepest offers the same pest control service used in hospitals, fine restaurants and major hotel chains at prices available to everyone.
Do you live in Bal Harbour, Florida, and need your pest control issue fixed fast?  Call us NaturePest today. 786-222-7069
Certifications:
Pest Control Operator
Horticultural Specialist
Certified Categories:
General Household Pest
Lawn and Ornamental Pests
BIO
Franklin has been in the pest control industry for 15 years, starting his pest control career with Rodi Pest Control in 2006, later in 2009 Founded One Property Services, LLC to provide complete property services including landscape maintenance and pool service. In 2014 he launched NaturePest to focus specifically on and cultivate 8 years of integrated pest management experience and innovations that have made him a leader in the ornamental care industry.
Serving the following cities
Coral Gables, FL
Coral Terrace, FL
Country Club, FL
Country Walk, FL
Cutler Bay, FL
Doral, FL
Florida City, FL
Fountainebleau, FL
Gladeview, FL
Glenvar Heights, FL
Goulds, FL
Hialeah, FL
Hialeah Gardens, FL
Homestead, FL
Homestead Base, FL
Kendale Lakes, FL
Kendall, FL
Kendall West, FL
Leisure City, FL
Medley, FL
Miami, FL
Miami Lakes, FL
Miami Springs, FL
Model City Naranja , FL
Olympia Heights, FL
Opa-locka, FL
Palmetto Bay, FL
Palmetto Estates, FL
Palm Springs North, FL
Pinecrest, FL
Princeton, FL
Richmond Heights, FL
Richmond West, FL
South Miami, FL
South Miami Heights, FL
Sunset, FL
Sweetwater, FL
Tamiami, FL
The Crossings, FL
The Hammocks, FL
Three Lakes, FL
University Park, FL
Virginia Gardens, FL
Westchester, FL
West Miami, FL
West Perrine, FL
Westview, FL