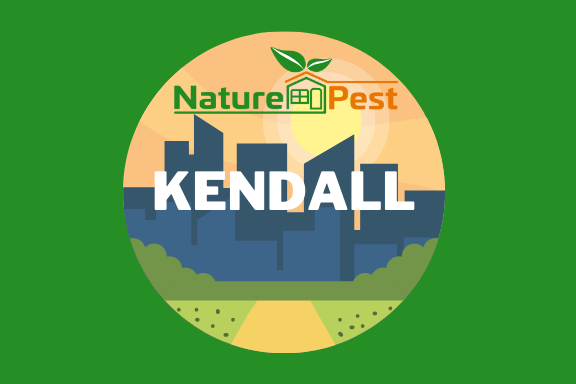 Kendall Florida Pest Control
Since 2006, NaturePest has been the premier pest control that Kendall residents and businesses trust to protect their health, pets and property from the damage and diseases caused by pests. The finest in eco friendly pest control that removes and prevents pests in your home with no toxic chemical indoor sprays that can endanger the health of your family.
Pest control Kendall has many challenges due in great part to the hot, humid weather and the long rainy seasons that can dump over 40 inches of rain in just 4 or five months in Kendall.
This subtropical environment is a preferred travel destination for tourists and insects. Florida is home to over 12,500 different insect species.  As of 1984, an average of 12 new insects are discovered in Florida annually since the advent of world travel and imports. Source http://edis.ifas.ufl.edu/pdffiles/IN/IN50300.pdf
South Florida is the largest importer of perishable products in the country with approximately 72% of all perishable products and approximately 95% of all roses and fresh flowers coming through South Florida Sea and Air Ports. Source http://www.miamidade.gov/budget/library/FY2014-15/proposed/volume1/five-year-forecast-proprietary-functions.pdf
These combinations of weather and constant pest threats actually make pest control Kendall and Miami Dade a necessity rather than a luxury.
More and more families are having difficulties performing their pest control service due to the fact that they have to work longer hours or maintain two jobs to support their families and quite simply don't have the time. This results in many families having to put up with insect problems and hoping they will simply go away.
If you do try to perform your own pest control services with the over-the-counter pesticide you buy at the home improvement stores, you come to find out they don't seem to work well and you have to keep applying them over and over again.
By the time you have asked your husband 12 times to get it done and you add up the cost of the chemicals, the time you spend traveling back and forth, and the time it takes for you to perform your own pest control service, you soon realize it's more time, money and effort you don't have. It's not worth it.
This is why we developed our eco-friendly Kendall pest control specifically to handle the South Florida weather and pest problems at affordable prices working families can afford. Whether you live in an apartment/condo and the management doesn't solve your pest problem or you live in a single-family home and it's too much of a hassle, we have the perfect program at the perfect price.
Our program is simple and affordable for any working family. Our pest elimination service will eliminate the current pest infestation you have with our proven ten-step pest elimination service which won't contaminate your home, food, pots, dishes, or the floors where your children or pets play.
Our pest prevention service integrated pest management and prevention program are specifically designed for south Florida conditions. We provide 6 exterior programmed prevention services per year and free unlimited re-services if, at any time, you experience common household pests in your home.
Since 2009 NaturePest is the premier eco friendly pest control Kendall trusts with no toxic chemicals, no contracts cancel anytime, child & pet friendly….
It's no wonder that Naturepest is the premier holistic pest control service in Kendall since 2009. Residents of Kendall have come to expect no toxic chemicals, no contracts, cancel anytime premium child & pet friendly pest control management. If you expect no less than this, we're the ones to call 786-222-7069.
This service with no contract. You can cancel at any time and without penalties or hassles. Our automated billing, payment processing, and scheduling service allow us to save money and pass those savings along to you enabling you to have a premium eco-friendly service at the same price as cheap pesticide spray services that contaminate your home. See Manager For Details.
If you are tired of dealing with your bug problems and need help please request your service now.
Pest Control near me Kendall is serviced by NaturePest which is owned and operated by Franklin Hernandez, Certified Pest Control Operator.