Aventura, FL Pest Control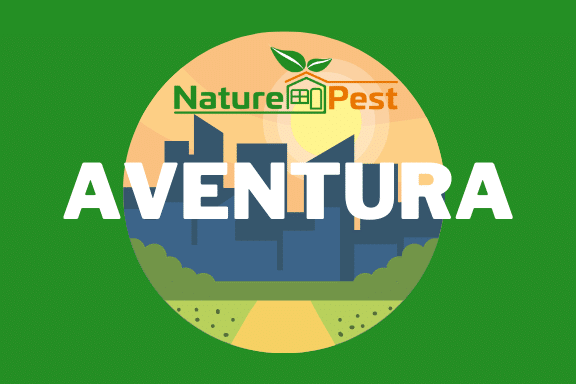 Aventura Pest Control Services:
Taking its cue from a casual remark made by a developer ("What an adventure this is going to be."), Aventura-Spanish for 'adventure' – is a suburban city in northeastern Miami-Dade County, Florida, United States. Well-known for Aventura Mall, the 5th largest mall in the United States (major source of income to the city) and the largest mall in Florida. Aventura is known for its tropical monsoon climate characterized by hot and humid summers as well as short, warm winters, with a considerably drier season in the winter. This of course makes it a perfect place for uninvited guests. Rodents, Termites, Bees, Ants, Fleas, Ticks, White Flies, Bed Bugs, and other pests: all of which cause serious property damage, and health hazards leading to diseases. This means that your Holistic Pest Control management services and solutions should come from ideal Aventura Pest Control experts like Naturepest Aventura Pest Control. That is, professionals familiar with both the climate, and the pests unique to Aventura. Our meticulous attention to detail and prompt, practical holistic approach to pest control sets us apart from your competitors. 
The same pest control service used in hospitals
In fact, Naturepest offers the same pest control service used in hospitals, fine restaurants, and major hotel chains; now available to everyone. Once reserved for a select few and now available to you for a lower price than most big brand pest control companies like Orkin, Truly Nolen, and Terminix -without a contract to tie you down- and environmentally friendly too.
Are there early signs which can make it easier to manage small pest numbers before a large-scale infestation?
Pest droppings
Dead bugs
Active pests
Odd sounds and smells
Nesting evident
Gnaw marks and holes
Bedbugs
Understandably, most people are blissfully unaware of pest infestation until it poses serious health problems with greater populations of pests. Why? Because pests tend to hide and unless you understand pest behavior and biology, you will most likely not notice an infestation until it gets out of hand. In spite of this, they tend to leave clear signs experts like us can detect as soon as pests invade a property. These and other signs visible on outdoors tell you that you have a pest infestation. if you are looking for an exterminator near me It's time to call Naturepest and schedule a visit.
Aventura Pest Control is serviced by NaturePest
Certifications:
Pest Control Operator
Horticultural Specialist
Certified Categories:
General Household Pest
Lawn and Ornamental Pests
BIO
Franklin has been in the pest control industry for 15 years, starting his pest control career with Rodi Pest Control in 2006, later in 2009 Founded One Property Services, LLC to provide complete property services including landscape maintenance and pool service. In 2014 he launched NaturePest to focus specifically on and cultivate 8 years of integrated pest management experience and innovations that have made him a leader in the ornamental care industry.
NaturePest
4140 NE 24th St,
Homestead, FL 33033
+17862227069