Pest Control In Golden Beach, FL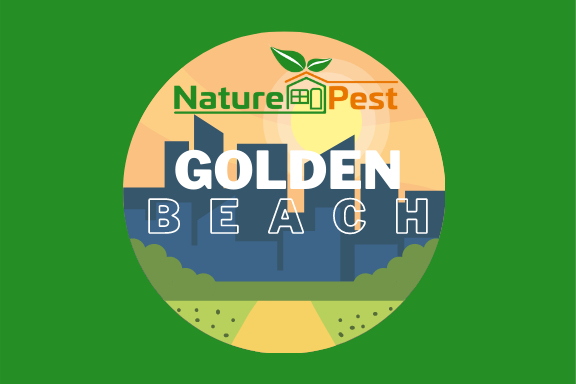 Golden Beach Pest Control Services:
Roaches, Ants, Rats, Fleas, Ticks
Golden Beach, is located on the barrier island separating the Intracoastal Waterway from the Atlantic Ocean. It beckons tourists and residents alike to this one-mile-long upscale community. Who else enjoys this northeastern corner of Miami-Dade County? Termites as well as many household and lawn and garden pests also seem to enjoy this non-commercial, low-rise destination. Naturepest Golden Beach, your leading local South Florida integrated pest control industry leader specializes in eliminating Golden Beach pests in homes at affordable prices while providing pest control that is safer than cheap toxic pesticide sprays with no binding contracts. You don't have to live with bugs and the diseases they spread and your pest control service should not endanger your health. The fact is that the pest control service used in hospitals, fine restaurants and major hotel chains is now available to everyone. What was once reserved for a select few is now available to you for at a lower price than most big brand pest control companies like Orkin, Truly Nolen and Terminix -without a contract to tie you down- and it's environmentally friendly too..
Naturepest believes that preventing pest infestations is a lot easier than controlling them. We also know that most of the time pest issues just happen no matter how well you try to prepare. This is why we offer free pest inspections within 24 hours of contacting us. Your busy schedule is our priority, so we set up convenient appointment times for your inspections and service.
Certifications:
Pest Control Operator
Horticultural Specialist
Certified Categories:
General Household Pest
Lawn and Ornamental Pests
BIO
Franklin has been in the pest control industry for 15 years, starting his pest control career with Rodi Pest Control in 2006, later in 2009 Founded One Property Services, LLC to provide complete property services including landscape maintenance and pool service. In 2014 he launched NaturePest to focus specifically on and cultivate 8 years of integrated pest management experience and innovations that have made him a leader in the ornamental care industry.
Serving the following cities
[wpgmza id="1″]
Coral Gables, FL
Coral Terrace, FL
Country Club, FL
Country Walk, FL
Cutler Bay, FL
Doral, FL
Florida City, FL
Fountainebleau, FL
Gladeview, FL
Glenvar Heights, FL
Goulds, FL
Hialeah, FL
Hialeah Gardens, FL
Homestead, FL
Homestead Base, FL
Kendale Lakes, FL
Kendall, FL
Kendall West, FL
Leisure City, FL
Medley, FL
Miami, FL
Miami Lakes, FL
Miami Springs, FL
Model City Naranja , FL
Olympia Heights, FL
Opa-locka, FL
Palmetto Bay, FL
Palmetto Estates, FL
Palm Springs North, FL
Pinecrest, FL
Princeton, FL
Richmond Heights, FL
Richmond West, FL
South Miami, FL
South Miami Heights, FL
Sunset, FL
Sweetwater, FL
Tamiami, FL
The Crossings, FL
The Hammocks, FL
Three Lakes, FL
University Park, FL
Virginia Gardens, FL
Westchester, FL
West Miami, FL
West Perrine, FL
Westview, FL