Pest Control In Bay Harbor Island, FL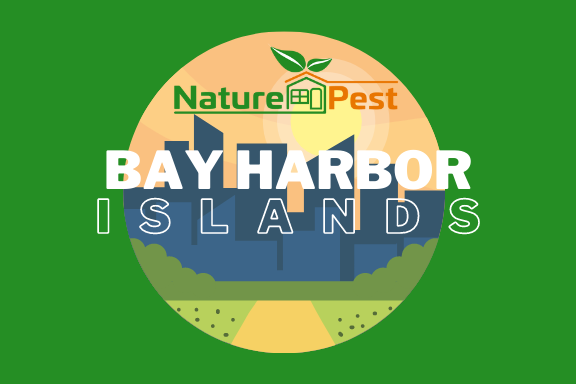 Bay Harbor Islands Pest Control Services:
Roaches, Ants, Rats, Fleas, Ticks
Widely regarded as a small, quaint community separated from the Miami mainland by a causeway, Bay Harbor Islands is known for its beautifully landscaped concourse in the center of town, visitors can find plenty of great shopping and fine dining options to enjoy. Like most other parts of South Florida, it too has its share of pest issues. Finding pest insects and animals on your property is never a nice, as these pests pose health risks that can be dangerous to you and your family.
Holistic methods of controlling pests through organic products that are not harmful to you, your family and the environment are what you need. Naturepest Bay Harbor Islands Pest Management specializes in environmentally friendly solutions and starts with chemical free solutions before considering any use of chemicals on your property.

Rats or mice in the attic of your brand new modern home is something you would never think of getting.  The truth, however, is that contractors don't always seal areas where rodent can enter; like in the corners under roofs and the air conditioner conduit entering the house. In fact, a mouse only needs a hole the thickness of a pencil to get it inside and a rat can fit through a hole the size of your thumb. This is why rodent proofing and reduction service is so important.
A lot of time and money goes into designing and installing your lawn and landscape which you want to protect from pests, diseases, weeds and malnutrition. Most people overlook this until its too late and your lawn has chinch bugs or white grubs, and your shrubs are infested with whiteflies, scale, aphids or thrips. Protecting your lawn and garden will help preserve the beauty and curb appeal of your home. Whether it's lawns, shrubs, trees or palms, we can help protect them from pest damage.
No matter what pest problem you encounter, we are here to serve you. Request a quote online or give us a call for a free no sales pressure consultation.
Certifications:
Pest Control Operator
Horticultural Specialist
Certified Categories:
General Household Pest
Lawn and Ornamental Pests
BIO
Franklin has been in the pest control industry for 15 years, starting his pest control career with Rodi Pest Control in 2006, later in 2009 Founded One Property Services, LLC to provide complete property services including landscape maintenance and pool service. In 2014 he launched NaturePest to focus specifically on and cultivate 8 years of integrated pest management experience and innovations that have made him a leader in the ornamental care industry.