Non Toxic Complete Bed Bug Control Service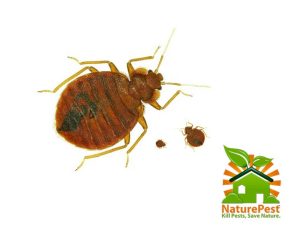 Since 2009 NaturePest has been providing the finest in non toxic eco friendly bed bug control in the Miami and the South Florida Area.
Our products and procedure are among the most responsible in the industry to avoid any contamination of your mattress, furniture, bedding, clothing and the air you breathe without the use of toxic pesticides.
Don't risk your family's health with cheap toxic and debunked spray services.
Bed bug control is not a do it yourself project, bed bug control requires an integrated pest management approach of identification, different treatment protocols such as heat, steam, vacuum, insecticides, dusts, crack and crevice treatments, mattress encasement, monitors, and periodic monitoring and inspections to ensure control.
We can kill and remove a great number of bed bugs from your mattress, chairs, carpets, furniture, drapes, bedding and baseboards with natural steam that kill bed bugs on contact and vacuuming to remove live and dead bed bug carcasses, because you don't want to be sleeping on a mattress full of pesticides.
This is especially important for rooms with infants, small children and the elderly which can be especially sensitive to pesticides.
We treat all wall voids and cracks with a non toxic silica gel dust that destroys bed bugs that are resistant to most pyrethrum or pyrethroide insecticides.
A natural non toxic crack and crevice insecticide treatment that is caused 100 percent mortality of bed bugs in university study and is performed on all pieces of furniture that could potentially have a bed bug infestation which will kill the bed bugs within 24 hours and continue to kill with a residual of up to 14 days.
All mattresses are treated with a bactericide, viricide, germicide, deodorizer, insecticide and sanitizer, once dry we cover your mattress with a bed bug proof mattress encasement to prevent bedbugs from getting out and biting you.
Monitoring stations are placed on the legs of beds and other furnishings like chairs and sofas to inspect and determine the level of successful control upon scheduled follow up services every 2 weeks for one month after initial bed bug control service.
A complete bed bug control service typically takes about 4 hours per room to treat completely with our certified Bed bug control protocol. Follow up service will include an inspection and re-treatment of areas where bedbugs have been found alive.
Here is what you get in the most comprehensive eco friendly bed bug control program in the industry!
Initial Inspection to confirm the presence of bed bugs.
Vacuum Mattress & Box Spring.
Steam Matress & Box Spring.
Treat Mattress & Box Spring.
Sanitize Mattress & Box Spring.
Encase Mattress & Box Spring.
Vacuum all Furniture chairs, dresser, mirror, nightstands, drawers.
Vacuum Carpets.
Steam Carpets.
Treat Carpets with a Non Toxic Pesticide.
Vacuum Drapes.
Steam Drapes.
Treat Drape Seams with Non Toxic Pesticide.
Vacuum all Furniture and Drawers.
Steam all Furniture and Drawers..
Treat every crack and crevice of all Furniture and Drawers with Natural Pesticide.
Treat Baseboards, windows, doors, closet shelving with Natural Pesticide.
Treat All Wall Voids with NON Toxic Dust.
Treat Attic with Non Toxic Dust.
Place Monitors on bed legs.
Follow up inspection in 14 Days and retreat if necessary.
Monitor for 12 months on a quarterly basis to guarantee control, Monitoring Service is FREE with our residential pest control program.
Mattress covers are additional and are quoted with bed bug service.