Are you looking for a real cleaning? Both DSV and Microban are Disinfectants, Cleaners, Sanitizers, Fungicides Mildew stat, Virucides, Deodorizers, Bactericides Germicidal Cleaner Concentrates and disinfecting product for your home or office that is scientifically proven to kill germs, bacteria, and viruses, that is safer than bleach and most household cleaners and is noncaustic?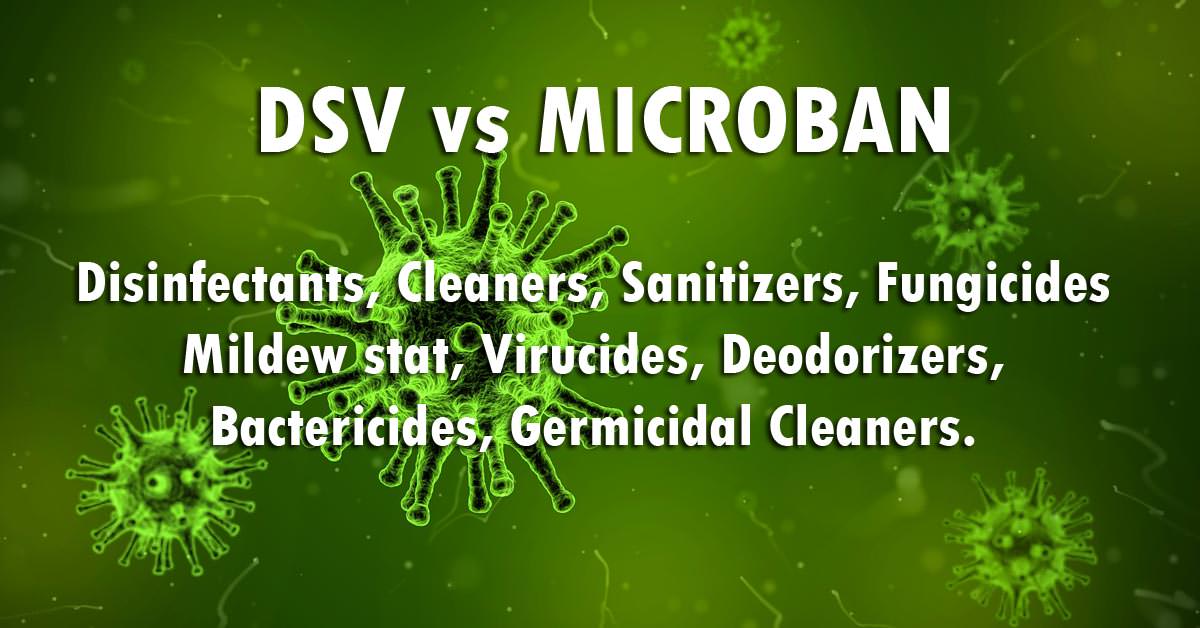 Both DSV and Microban is what hospitals, sensitive facilities, professional pest control and wildlife experts use to clean, disinfect and sanitize. No other products on the market can compare.
Both DSV and Microban are Disinfectant, Cleaner, Sanitizer, Fungicide Mildew stat, Virucide*, Deodorizer, Bactericide Germicidal Cleaner Concentrate
Areas Allowed to Be Applied
Both DSV and Microban can be used in hospitals, homes, clinical and dental places of work, clinics, fitness care centers, medical associated centers, sick rooms, nursing homes, convenience shops, day care centers, nurseries, correctional centers, prisons, institutional centers, establishments, barber shops, salons, bars, eating places, cafeterias, institutional kitchens, crime scenes, meals storage regions, public rest rooms, bathrooms, bathe and bath areas, schools, athletic centers, dressing facilities, locker rooms, workout facilities, camp grounds, play grounds, food processing flora, USDA inspected meals processing flora, mushroom farms, dairy farms, hog farms, hen and turkey farms, kennels, puppy animal quarters, zoos, pet shops, animal laboratories, transportation terminals, inns and accommodations, factories, commercial enterprise and office buildings, boats, campers, ships, trailers, cell homes, cars, buses, trains, taxis, ambulances, emergency automobiles, airports, and airplanes.
Surfaces That Can Be Applied
Both DSV and Microban may be used on the subsequent tough non-porous surfaces: home equipment, bathtubs, mattress frames, cabinets, conductive flooring, counter tops, chairs, countertop laminates, desks, doorknobs, completed woodwork, Formica, laminated surfaces, rubbish cans, microwave ovens exterior, stovetops, sinks, refrigerators, tables, picnic tables, phones, outdoor furnishings, highchairs, washer-friendly walls, phones, bathe stalls, tubs and glazed ceramic tiles, whirlpool bathtub tubs, glazed porcelain tiling, exhaust fanatics, refrigerated garage and display gadget, coils and drain pans of air con and refrigeration device and heat pumps, chrome steel, enameled surfaces, vinyl and plastic upholstery, ultrasonic baths, bathe stalls, rest room furnishings, partitions, kennel runs, cages, flooring, hard non-porous surfaces which include fiberglass, glazed ceramic, glazed porcelain, metallic, stainless steel, and plastic.
Bach DSV and Microban merchandise include no phosphorous.
Both DSV and Microban were formulated as a useful resource within the discount of go-infection on dealt with surfaces not most effective in hospitals, however in faculties, institutions, and enterprise.
Both DSV and Microban promises non-acid cleansing performance in an economical (2 ounce in keeping with a gallon) dilutable formulation.
Both DSV and Microban clean, disinfect, and deodorize in one step, saving labor.
Both DSV and Microban can be used with a mop and bucket, hand sprayers, sponge soaking.
Both DSV and Microban efficiently controls malodors.
Both DSV and Microban to smooth and disinfect completed floors, Sinks, Tubs.
Both DSV and Microban are for use in kitchens, toilets, and different family areas.
Both DSV and Microban are formulated to be used in day by day upkeep applications with a stability of biocides, detergents, and malodor counteractants that supply effective cleansing, disinfecting, and malodor manipulate.
Both DSV and Microban will not leave grit or soap scum.
Both DSV and Microban are a cleanser and a wide-spectrum disinfectant formulated to be used in Ultrasonic Baths.
Only Microban is labeled for UNDERWATER DIVING GEAR: Cleans and Deodorizes porous and non-porous surfaces of underwater diving equipment including buoyancy control devices, dry suits, fins, fuel re-breathers, garments, gloves, harnesses, hoods, manifolds, neoprene inflatable wings, raise baggage, regulators, snorkels, valves, goggles/mask, wetsuits, water shoes, underwater illumination devices, and more.
Only DSV is labeled for the control of flies both drosophila spp. & phoridae species on non-food contact surfaces such as bars, countertops, chrome, dishwashing areas, floors, glazed porcelain, glazed tile, glass, walls, metal surfaces, painted surfaces, rubber, and plastic in restaurants, kitchens, wait station areas, and drains.
Bacterias and Viruses Sanitized
Both DSV and Microban are effective against Burkholderia cepecia Campylobacter jejuni, Corynebacterium ammoniagenes, Enterobacter aerogenes, Enterobacteriaciae, with extended beta-lactamase resistance Enterobacter cloacae Enterococcus faecalis, Enterococcus faecium, Vancomycin resistant Escherichia coli, Escherichia coli, Antibiotic resistant Escherichia coli 0157:H7 Klebsiella pneumonia, Klebsiella pneumonia, Antibiotic resistant Legionella pneumophila Listeria monocytogenes, Proteus mirabilis Proteus vulgaris Pseudomonas aeruginosa, Pseudomonas aeruginosa, Antibiotic resistant Salmonella enteric, Salmonella schottmuelleri, Salmonella typhi, Serratia marcescens, Shigella dysenteriae, Shigella flexneri Shigella sonnei Staphylococcus aureus, Community Acquired Methicillin Resistant Staphylococcus aureus, CA MRSA Staphylococcus aureus, Methicillin resistant, Staphylococcus epidermidis, Antibiotic resistant Streptococcus pyogenes, Vibrio cholerae Xanthomonas axonopodis pv. Citri, Xanthomonas campestris pv. Vesicatoria, Avian influenza A/Turkey/Wisconsin virus, Avian influenza A virus, H5N1 Hantavirus Hepatitis B Virus, HBV Hepatitis C Virus, HCV Herpes Simplex Type1 virus, Herpes Simplex Type2 virus, VR734 HIV-1, AIDS virus Human Coronavirus Influenza A/Brazil virus Influenza A H1N1 virus (Strain A/PR/8/34) Respiratory syncytial virus Vaccinia virus. Enterobacter aerogenes, Klebsiella pneumoniae, Staphylococcus aureus, Candida albicans, Trichophyton mentagrophytes.
DSV Active Ingredients
Octyl Decyl Dimethyl Ammonium Chloride …. 1.650%
Didecyl Dimethyl Ammonium Chloride ………. 0.825%
Dioctyl Dimethyl Ammonium Chloride ……….. 0.825% Alkyl (C14, 50%; C12, 40%; C16, 10%)
dimethyl benzyl ammonium chloride ………. 2.200%
http://nisuscorp.com/pest-management-professionals/products/nisus-dsv
Microban Active Ingredients
Octyl decyl dimethyl ammonium chloride 1.65%
Dioctyl dimethyl ammonium chloride 0.66%
Didecyl dimethyl ammonium chloride 0.99% Alkyl (C14, 50%; C12, 40%; C16, 10%)
dimethyl benzyl ammonium chloride 2.20%
Blog Headline:

DSV vs Microban Disinfectant Cleaner Sanitizer Deodorizer
Blog Description:

Are you looking for a real cleaning? Both DSV and Microban are Disinfectant, Cleaner, Sanitizer, Fungicide Mildew stat, Virucide, Deodorizer, Bactericide
Author Name:

Franklin Hernandez
Publisher Name: Nature Pest