Illegal Pest Control By Landscapers Is Rampant In Florida.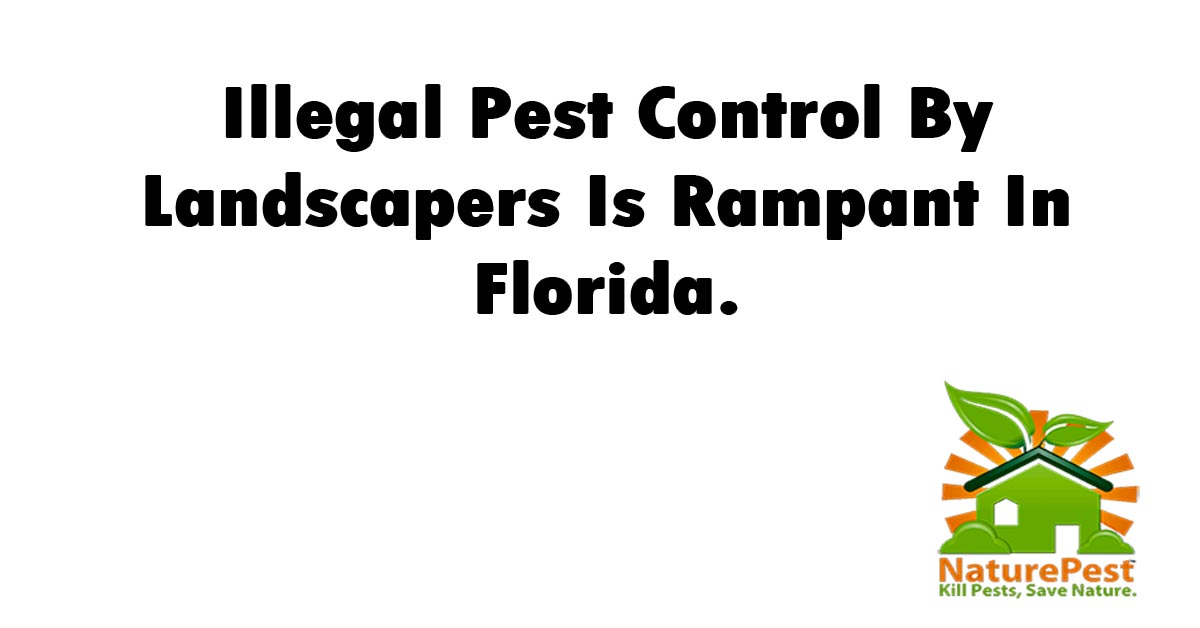 In a tough economy most people are choosing to have their landscapers perform fertilizing and pest control services to save money, landscapers have started offering pest control services for lawns and gardens unaware they are breaking the law and worst yet endangering the health of their clients, pets and contaminating the environment.
Just about every landscaper carries a backpack or other sprayer with most likely Glyphosate "roundup" to kill weeds on pavers, sidewalks and in the landscape.
Landscapers are purchasing pesticide and fertilizer products over the counter or online and applying them to their customers lawns and landscapes without any training, license certification, insurance, proper personal protection equipment, nor carrying the federally required necessary document to carry and transport chemicals such as the Material Safety Data Sheets or MSDS which inform emergency first responders such as firefighters of the chemicals onboard and how to contain it in the event of an accident, spill or fire.
Customers and the landscaper in most cases are unaware that the pesticide itself they are applying could be illegal to apply to residential properties because some are restricted use pesticides RUP's by the EPA, such as "weed and feed" with the active ingredient Atrazine which requires an RUP license to apply because of serious contamination issues, other pesticides are labeled for agricultural, green houses, sod farms, turf and golf courses use only with strict guidelines such as an up to 12 hours of re-entry restriction.
The problem is that many cannot read the labels which are in English others have not been trained to read and interpret the label and are applying pesticides at dosages that are much higher than legally allowed by the label which is governed by federal law and are putting people, pets, and wildlife at risk and possibly contaminating the soil and the groundwater with toxic or illegal chemicals.
Customers and homeowners associations with waterfront properties are unaware of the barrier from applying a pesticide or fertilizer ten feet from the edge of the water to protect lakes and streams from contamination allowing landscapers to make these applications right to the edge of the water.
In the state of Florida it is illegal for anyone to apply any pesticide even glyphosate aka "roundup" the most common herbicide on the market for the control of weeds, or applying any Insecticides or fungicides commercially, that is to any property other than your own without a pest control license or certification.
If you hire a landscaper and they apply any fertilizer or chemical to kill a plant or organism i.e. Insects or diseases they are performing an illegal pest control service under the State of Florida Statute 482 which governs pest control and enforced by the Florida Department Of Agriculture And Consumer Services FDACS.
A violation of this law is subject to fines of $5,000 to $25,000 and imprisonment.
Pest control services can only be performed by licensed pest control operators and their employees which are certified ID card holders.
Landscapers that wish to fertilize must take the state mandated Best Management Practices course and apply for a license from the Florida Department of Agriculture and Consumer Services FDACS.
Landscaper that which to perform herbicide applications such as roundup must take the required training and apply for a limited Commercial landscape license from FDACS.
No license is available for landscapers to apply any chemical pesticide to lawns.
Even municipal employees must be certified or licensed by FDACS for the application of fertilizers and pesticides to right of ways, parks or any city or county property.
https://www.freshfromflorida.com/content/download/23511/484250/limited_landscape_pkt.pdf
To avoid any violations have us professionally manage your lawn care and garden care progrm or give us a call for a free lawn and garden consultation.